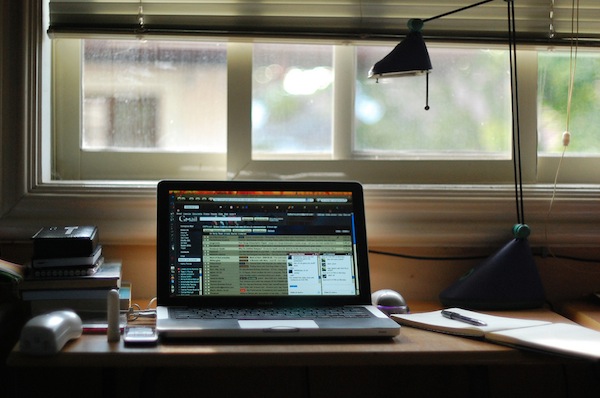 [Image: puresolitude]
Working from home is pretty difficult, even if your friends in a "regular" company are saying quite the opposite. They simply don't know. If you're a freelance and self-employed professional, you need to embrace rules and stick with them to accomplish tasks in your workday because you have to learn to avoid those several things that can reduce easily your productivity like staying on Twitter and Facebook, or reading blogs instead of, for example, writing good copy  for your client.
Today Gina M. Casillo, a staff writer from Serenity Living Stores, will share with us how she can handle her daywork and, most important, improve her productivity in the following guest post. Hope you like it: enjoy!
4 tips for managing your time and staying efficient during the workday
If you're a freelance writer or business owner, like me, then you must be a master at managing your time and staying productive, right?
I imagine you're laughing like I do when my friends and family members say that to me! Sure, there is a certain amount of discipline you require to work productively from home or even at the office. However, aside from the self-discipline it takes to stay on track and get your work done, there is a lot more involved. Let's face it, sometimes there just aren't enough hours in the day to get everything done.
That's why using small factors to improve work productivity can make all the difference. For instance, things like organization, planning or scheduling, taking breaks to clear your head, and more, can help put your work priorities in real focus.
I use the following small factors to improve my productivity and efficiency during the workday.
1. Create a comfortable workspace
Never underestimate the power of a comfortable desk chair (with back support) when you have to sit in it and type for 8 or more hours each day. That's why I went out to buy an Eames chair. Sure, I splurged, but I make more money because of it due to the fact I'm able to sit and write for much longer. That's why it's vital to carve out a private, comfortable work environment that's decorated with all of the tools you need to do your job, organized, and tranquil. Think of it this way—how is your mood affected by a cluttered, loud workplace? You're probably distracted right? That's why investing in your comfort at work is not an expense—it's a wise investment!
2. Plan your day with a schedule
I personally find adding a little organization to my day or week with a schedule helps me to put all of my many tasks in perspective as far as priority. This way I'm able to focus on the current task, get it done, and move on to the next priority. I also know myself well (I've worked from home for a long time) and part of that was accepting the fact that I'm not a morning person. I prefer to run in the mornings to get my creative juices flowing and concentrate my desk-sitting tasks to the late morning and early afternoon hours when I'm most productive. I typically use tools like Google Calendar to keep myself on track, slotting certain meetings and designating other chunks for work tasks, which helps me to avoid distractions and get work done in a more time efficient manner.
3. Impose boundaries for your own good
Getting distracted in an office setting is easy—with gossipy coworkers, demanding bosses setting you off task, and phone calls. It's worse if you work from home. I'm distracted by my kids, dishes in the sink, the television, and social media. When working in a home office it's difficult not to slip into that "I'm home" feeling even though you're working. I set up boundaries to avoid temptation, for instance:
I limit my Twitter or Facebook use to 30-minutes in the morning and at the end of the day.
I designate office hours so that my kids and family know not to disturb me when I'm working.
I allow myself a break to go to the gym or for a run at lunch if I get all my slated work done in the
morning.
4. Take stretching breaks
A good stretch has so many positive effects on your body and mind. Throw in a short walk or run and you'll prevent stiffness and repetitive stress caused from sitting in a chair for 8 + hours per day—and help restart your blood circulation and your creative juices so you can come back to work refreshed and focused. I stretch about every hour I'm working, and I schedule a 30-minute run or a bike ride to clear your mind every day during my lunch hour.
What about you: what kind of things you pay attention to for boosting your daily productivity? Share your opinion in the comments or with me on Twitter (@the_dandy)