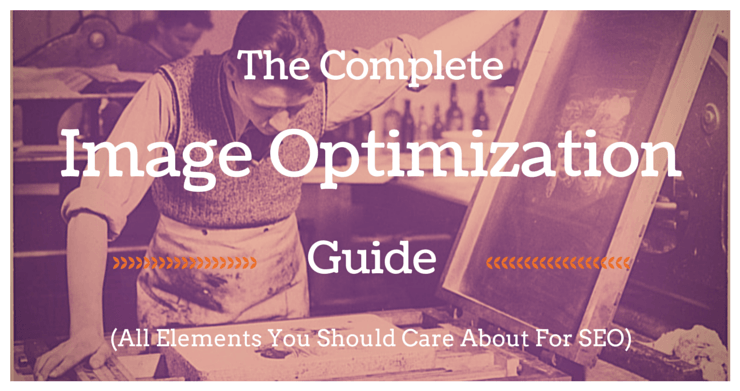 It's no secret: if you want users to find it through search engines, each content you publish on the web needs to be optimized. That's true for homepages, blog posts, product pages and for images too. Yes, image optimization can have a tremendous impact on the number of visitors and inbound links you could earn through your website.
The process of image optimization for a website is part of a wider SEO approach called on-page SEO, which aims at making a single page rank better for a target keyword by tweaking several elements (Brian Dean shows it perfectly in this post).
But let's get back on topic and see how to optimize our images right away by following these tips.
1. Name Your Images Descriptively And In Plain English
It could sound as a no-brainer to somebody but if you don't rename correctly your image files and just leave them with something like image_031234593xyz.jpg, you're missing out on getting new visitors. For sure. Google is no joke and, after the Hummingbird, Panda, Penguin and all the zoo-named Google updates you need to prefer plain English over everything.
And yes, images are no exceptions: use a descriptive name for your file containing the keyword you'd like to be optimized for. Be sure to pay attention not to make weird long file names, stuffed with keywords or jargons. Plain English and 1 keyword. That's enough.
Quick Image Optimization Takeaway #1:
Rename the file with a descriptive name containing your keyword
Make it between 2 and 5 words
Use hyphen (-) or underscore (_) to separate words
2. Add Descriptive Alt Tags Containing Your Keyword
Do you know why there's something like the alt attribute? "Alt" is short for "alternative text", a short string of text that should be shown (or read out loud by some softwares) when the image fails to be displayed to the user. It's an important element to pay attention to though. And, back to this post's goal, you should fill alt tags with a concise description of the image they're referring to and put the keyword you would rank better for in it. Just like you do for image file names, short descriptive plain English will perfectly do the work.
If you have an ecommerce business and would like to know how to better optimize your product images, Mark Hayes from Shopify got you covered in this post.
Quick Image Optimization Takeaway #2:
Leverage alt tags smartly
Use your focus keyword in the alt tag text
Keep 5 words as your limit or roughly 140 characters
3. Exif Tags Help Your Images Rank Better
Potentially. Or, as Matt Cutts from Google said
 "we reserve the right to use EXIF or other sort of metadata that we find an image in order to help people find information. […] So if you're taking pictures, I would go ahead and embed that sort of information if it's available within your camera […] I wouldn't worry about adding it if it's not there. But we do reserve the right to use it as potentially a ranking factor."
So, if your camera or smartphone add EXIF metadata, just leave them where they are ok?
Quick Image Optimization Takeaway #3:
EXIF information could help an image rank better
Geolocation, camera brands, copyright, focal lens and the like are most likely to be used by Google
4. Page Copy Helps Image Ranking
Google and all other search engines look at the content of a single page as a whole to determine the relevancy of a given image. That's why the more content you're able to bundle with the page that contains your image, the better is for it. Captions, brief paragraphs, or any "chop" of surrounding text with relevant information, work as the perfect companions for images to be indexed, thus rank better.
Quick Image Optimization Takeaway #4
Use relevant captions with keywords and descriptive copy
Every piece of text surrounding an image increase the indexing process
5. Provide An Image Sitemap File
Search engines like structured information because they can easily pass through them. For a website, this information should be provided through a sitemap, a single file or page "where you can list the web pages of your site to tell Google and other search engines about the organization of your site content", as Google documentation support reads.
To take your website's image optimization process to the next level, you should also take care of how you manage all your photos: upload them in a clear, descriptive and optimized path like domain.com/images, instead of having them collected in different directories or sub-directories and provide more metadata in a second sitemap exclusively for your images. Here's how to create an image sitemap for Google.
Quick Image Optimization Takeaway #5:
Keep all your image files organized in a single directory like domain.com/images
Provide an image sitemap to give search engines correct metadata about all your images
6. All Inbound Links Are Great
No matter which SEO goals you're aiming at, inbound links are important. That's the case when you're trying to optimize your images. The key aspect here to consider is that it wouldn't necessarily be an inbound link targeting the image URL exclusively what you should work for. Any inbound links to the page containing your target image would be a good fit for your image optimization purposes. Just like with general SEO, the anchor text plays an important role in helping your image rank better and may increase the number of visitors towards your website also.
Quick Image Optimization Takeaway #6:
Inbound links to the image URL are important
Inbound links to a single page with your target image help with image optimization
Descriptive anchor text is still relevant
7. Thrive For Image Quality And Uniqueness
Poor and low-quality images affect an important aspect of SEO tactics: click-through (CTR), the percentage of users who see your image and decide to click on it. A high CTR is a good insight for search engines that users find your content helpful, relevant, engaging. Another tip here is to create unique graphics and images anytime you can, avoiding stock photos as much as you can. Kevan from Buffer App wrote a great post on creating visuals and images, you should check it.
Long story short: visually-enriched contents rank better not only because they can leverage more keywords, but because they provide a better UX and what users were specifically looking for.
Quick Image Optimization Takeaway #7:
Avoid stock photos
Create unique images and visuals
Invest time crafting different visuals for each social profiles to increase the CTR for your target page/image
8. Reduce The File Size Of Your Images
One of the greatest issues, when uploading images to the web, is their file size and how it affects the page loading time, thus the speed of your website. This is important ranking factor for search engines. TO help you with that, here you are with what I think are the best tools to decrease the file size of all your images (they're free):
If you're interested in more detailed information, there are 2 posts from Smashing Magazine for PNG optimization techniques and JPEG optimization that explain better how file compression works.
Quick Image Optimization Takeaway #8:
Effectively reduce the file size of each image you upload to have big immediate impacts on your rankings
To Sum Things Up
Images are critical to increasing the results of your SEO efforts: they can appeal to new visitors, make your content easily digestible, tweak users' intentions to click (or not click) your link, boost the social proliferation of your content. In this guide, there's only one ultimate tip that I'd like to share, which should now sound redundant but here it is: make images an important element of your strategy.