Let's say you need to sort all at once a whole bunch of PDF files that are stored in your inbox as email attachments. Sure you're a Gmail user and you can count on a terrific internal search, but there's a better, simpler and smarter way to search for your PDF file: use the filename operator.
As you might know Gmail has operators to perform more accurate searches, and filename:xxxxxx is all you need right now.
How to use the filename operator in Gmail

Type filename:PDF or filename:pdf in the search box above your inbox. In addition you can limit the scope of your search to a specific label by combining with the label operator like this label:work filename:pdf.
As you'll see, Google will prompt you other suggestions that will be might be useful for other file type.
When done, hit the Return key or click on the blue lens on the right to perform your search.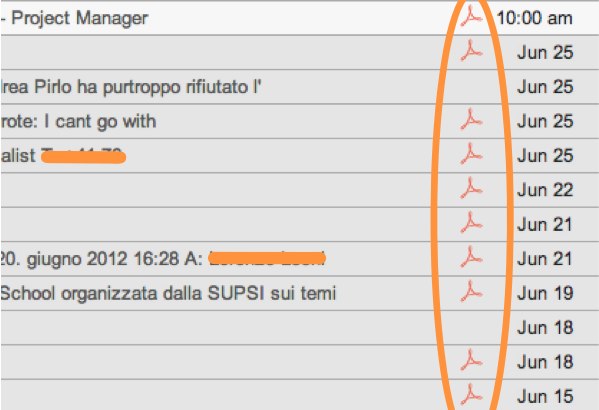 Voilà! As you can clearly see, all emails with PDF attachments that I've received are sorted form the most recent to the oldest one.
Easy right?
P.S.: you may have noticed that my Gmail shows a small icon for PDF file attachments. To get this, you need to install Gmelius and use Chrome as your Web Browser.
Which Gmail operator do you use the most? Share your opinion in the comments or with me on Twitter (@matteoduo)