If you have a website, there's a high chance it's built on WordPress because WordPress runs over +43% of the entire internet. And if you do, your choice for dealing with SEO issues and improvements has probably landed on Yoast SEO Plugin.
If you haven't seen it in action, it's a WordPress plugin that, once activated, brings in a new area below each of your post/page where you're able to add some important SEO elements like SEO title, focus keyword, and meta description.
What most bloggers and WordPress users still don't get is how the focus keyword (or focus keyphrase) works and is related to their SEO.
Let me provide you with crystal clear answers to your questions about the focus keyword field so you can use it at its full potential.
The problem here is that many WordPress users use on a regular basis Yoast SEO plugin, but few really know how the focus keyword works.
What's The Focus Keyword in Yoast SEO Plugin?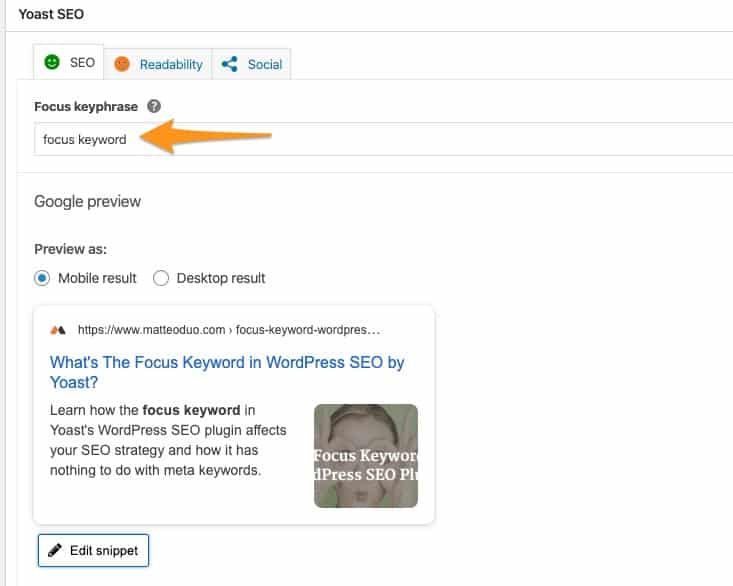 Have you ever noticed that when you start typing anything in Google search box, you immediately get words and suggestions based on your search? Those are the most common searches users performed on Google.
From an SEO perspective, those are useful insights you could use when developing editorial ideas and listing keywords to rank for. They could be the starting point of your keyword strategy.
Whether they're generic vs specific or short vs long-tail keywords (also known as key phrases), you need to keep them in mind when creating content because you should use them in your pages and blog posts.
If you aim at ranking "content marketing tips", for example, you'll need to create a bunch of pages, blog posts, infographics, and other content pieces with those words in a natural flow.
Yoast SEO plugin's focus keyword helps you with that: the focus keyword — or focus keyphrase —keeps you "focused" on a target keyword or keyphrase you'd like to rank for. It helps you keep track of the occurrences of that exact expression on the blog post or page you're currently working on.
What's The Goal Of A Focus Keyword?
The focus keyword is nothing else than a writing tool you can use to improve your writing while creating a page or a blog post in WordPress. Although I was sure about this, I asked: "Hey why not ask directly to Yoast team, just to be super-duper sure about it?" So I did and Michiel, who's in charge of site reviews at Yoast's, confirmed it all:
@matteoduo yes.

— Michiel Heijmans (@michielheijmans) March 3, 2015
How Does The Focus Keyword Affect Your SEO?
This is one of the biggest misunderstanding WordPress users and SEOs have: the focus keyword in Yoast SEO plugin doesn't affect SEO at all, nor it modifies the code on your entire website.
The SEO title field and the meta description do, as you can see in the image below showing the meta description for my guide on image optimization best practices:

Again, I asked Yoast team and got it confirmed:
@matteoduo It doesn't; it helps you optimize the page for that keyword without having any SEO influence itself ;-) /cc @yoast — Michiel Heijmans (@michielheijmans) March 3, 2015
How Many Focus Keywords Can You Use?
If you're using the free version of Yoast SEO, you can add one focus keyword. If you're using their premium version, you'll have the possibility to add synonyms and related keywords.
Things don't change, though: since the focus keyword is a way to support your writing process, the focus keyword should always be one for you're writing copy to rank for a specific keyword not a bunch of them.
Do All My Pages And Posts Need A Focus Keyword?
No, you aren't asked to find a focus keyword for each of your pages and blog posts because the sole purpose of it is to help you in staying focused on your writing, aligning the wording, copy and information with the keyword you're aiming for. In Yoast's words:
The answer is easy: not every page needs a focus keyword. Your contact page should be easily reachable, it might for instance need to rank for " address". That probably doesn't make sense as a focus keyword though and it's perfectly fine to leave it empty.
Focus Keywords vs Meta keywords
Focus keywords aren't to be confused with meta keywords, those words and phrases SEO "gurus" used to insert in a website to trick search engines back in the days. Those should have been an additional way for webmasters to provide search engines with even more descriptive information about their site, thus rank better.
But guess what, webmasters started filling up their website with "free mp3", "free porn videos" or other huge online searches and results where crap. Today Google and other search engines don't evaluate them anymore.
By default, Yoast SEO doesn't allow meta keywords (for this very good reason), still some users want the possibility to use them within their SEO strategy. If you'd like to waste some of your time and stuff your WordPress site with meta keywords, you can still enable them.
How To Use The Focus Keyword Field
As I said before, the sole purpose of the focus keyword is to make your writing process, wording, and writing depth align with a target keyword you'd like to rank for. With this in mind, don't over-use it within your copy, nor force sentences containing your focus keyword if that's not the case. Write like you speak, in plain English, following a natural flow, using everyday words.
Of course, you should take into consideration the keyword density aspect, which is the number your very keyword has been used on your page. Yoast's plugin shows this number and you can take action accordingly.
Wrapping Up
As content marketing is stronger than ever, SEO is gaining attention too. But be warned: search engines are smarter nowadays and creating a list of generic keywords you would like to rank for is like flushing your time and money down the toilet. Yoast SEO is a great plugin that can help you improve your SEO efforts because it has all the main elements a page or blog post needs to have.
Picking the perfect focus keyword isn't easy and now that you know what's all about, it's your turn to use it effectively in your next post!