Reviews are the factor that can make or break your WordPress plugin.
Social proof, like ratings, has a huge effect on users' decisions. That's why it's important to pay attention to your users and encourage them to give your WordPress plugin a good rating.
By understanding why people leave reviews (both good and bad) and responding to their criticism or requests, you can get a better understanding of what they're looking for, what's bothering them, and try to turn those insights into more download and five-star ratings.
The Role of Plugin Reviews
Good or bad, people love to leave feedback on a product they've used. And that goes for WordPress plugins too! Sharing their experiences, reporting bugs and issues, or praising the creators, reviews bring a community together.
And ratings help both users and developers. For users, it gives them a way to evaluate the quality of a plugin at a glance, and research deeper to see if it has the features they need. If a plugin has a lot of high ratings, you know it's safe and is at least worth testing out. Meanwhile, several one-star reviews may indicate that it has unresolved issues or poor support.
As for developers, it's a way to get valuable feedback and an extra way to improve your WordPress.org SEO ranking.
All in all, reviews present a huge opportunity for growth.
Where Do People Leave Plugin Reviews?
Every WordPress plugin has its own review page right on the WordPress repository. You can find it by going to any plugin's overview page and looking for the "Rating" header on the right sidebar.
However, people may leave reviews for your WordPress plugin all across the internet. They may mention it on forums, social media, or leave a comment on your plugin's site if you support that functionality. There are also some sites where users can independently review plugins:
These types of sites are usually limited to major plugins.
Smaller plugins have to rely on bloggers to write a (paid) review on sites dedicated to plugin/theme reviews such as like Wpplugincheck or WPArena (there are plenty more and I'll write a dedicated post about it) and even trying to get featured on other bigger publications.
What Triggers People to Leave Plugin Reviews
People leave reviews for a variety of reasons, and understanding what motivates them can help you encourage more frequent and better ratings. On average, WordPress plugins get feedback from less than 1% of their users, so you need to do everything in your power to bring that number up.
In most cases, people leave feedback because they had either a positive or a negative experience that was significant enough to make them speak up. Since so few people ever review, something big has to happen to change this: either they have a bad experience or you give them something they've been looking for a long time.
But you can't rely on just building a great plugin to get feedback. You need to be proactive and know how to target users in a way that encourages them to break their silence. And that means knowing what the common triggers of a review are.
What Triggers People to Leave Negative Reviews
In the case of a negative review, it can vary, but these are the usual reasons:
The plugin was buggy or broken. It's not always the case but many users, instead of posting on your support forum, they'll simply skip this step and go straight to giving you a one-star review. Especially if the bug resulted in something serious like breaking their website or locking them out.
You gave bad support. Ignoring support tickets or acting rude or flippant is a major trigger of negative ratings.
Your plugin did something annoying. Over-advertising in the admin area is a big cause of this type of review, as well as bugs and glitches, or clunky and unresponsive UI.
The user wanted to vent. If your plugin gave someone a bad enough experience to frustrate them, they might take it out on your ratings just to feel heard.
Sometimes, negative reviews won't even make sense to you. But no matter how upsetting it can be to get a bad rating, handling it with tact and offering to help fix the problem can sometimes change that angry reviewer into a good review.
Never take your frustration out on a user, even if they're being unfair. Click To Tweet
What Triggers People to Leave Positive Reviews
While it's easier to get people to respond negatively rather than positively, people still do leave positive reviews for many reasons:
You gave them what they needed. You helped the user accomplish something that other plugins make difficult. If you create something with stand-out features and do it better than competitors, others will take notice.
You asked them to leave a good review. Sometimes a little reminder goes a long way. Even if they weren't blown out of the water by your plugin, if they still had a positive experience, they could be convinced to leave a positive rating.
They want to help or reward you. Even non-developers know that star rating is an important aspect of growth for plugin businesses. So they'll leave you a good review to get you that boost and let you know your work is appreciated.
Positive or negative, people are motivated to write reviews for three reasons:
To help others decide which plugin to download.
To express themselves and share their experience, both positive and negative.
To offer praise as a reward for your work.
Now that we've dug deeper into what triggers users to leave reviews on products, let's look at some real examples of WordPress plugin reviews in action.
Triggers in Action: The 5 Universal Types of Plugin Reviews
The best way to learn about what motivates someone to leave a review is to see them in action. These were taken directly from the WordPress plugin repository across various uploads.
Positive Review Examples
First, here are some examples of straight-up praise. Some positive reviews are short and sweet, some are long and detailed, but all provide great feedback you can use to improve.
Plus, it's a big morale booster to receive praise for your hard work.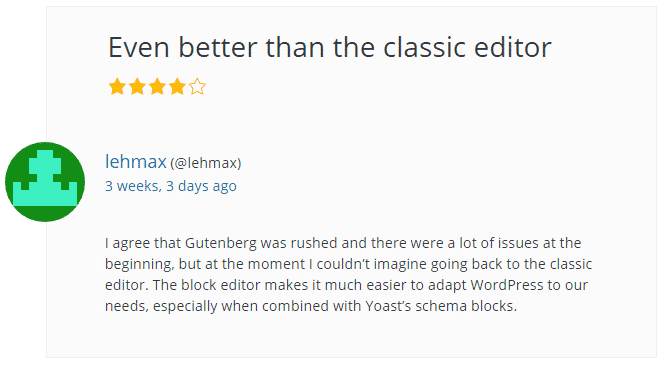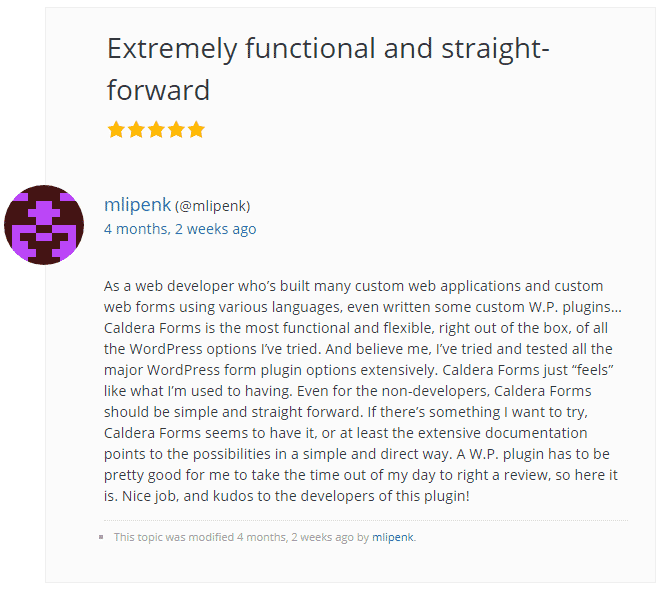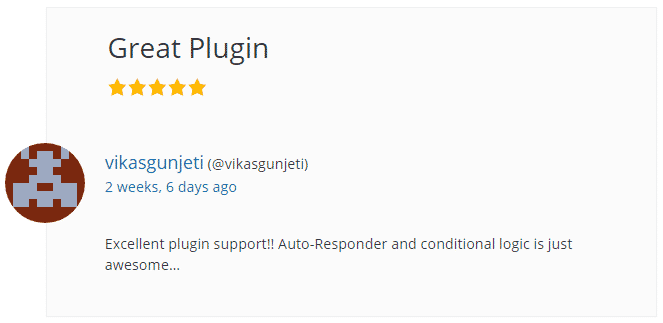 Notice how these reviewers take the time to point out features they liked.
A well-made WordPress plugin that offers better features than its competitors often attracts more vocal support. The reviews also mention compatibility with other plugins and good documentation as pluses.
Keep an eye on these type of purely positive reviews, since they point to the features your users most appreciate.
Feature Request Review Examples
Three- and four-star reviews usually come with a feature request or small critique.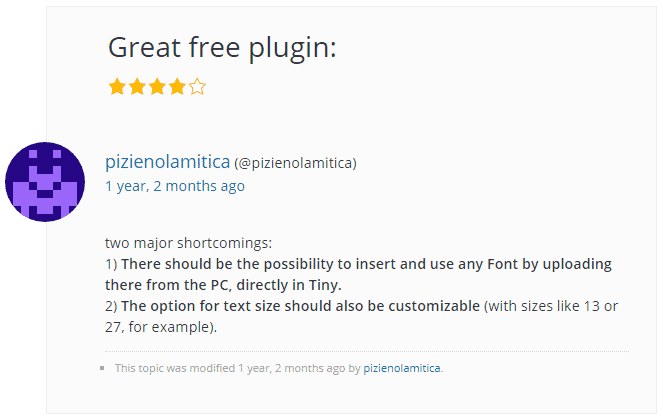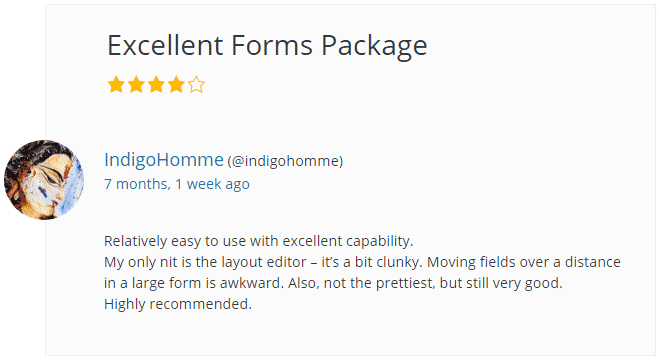 It's good to keep this criticism in mind while moving forward, as a lack of support for a popular feature can hold your plugin back.
Strategic implementation of some requests can lead to happier users and better ratings. Meanwhile, you could suggest workarounds to help these users out.
Community-Focused Review Examples
Some users are motivated by a desire to help people or give back to the community. And in a similar fashion, some simply want to express themselves and respond to what others are saying.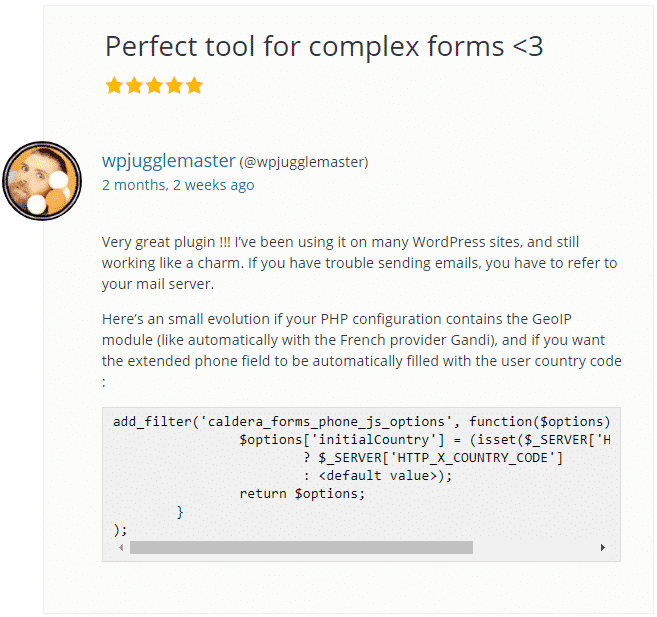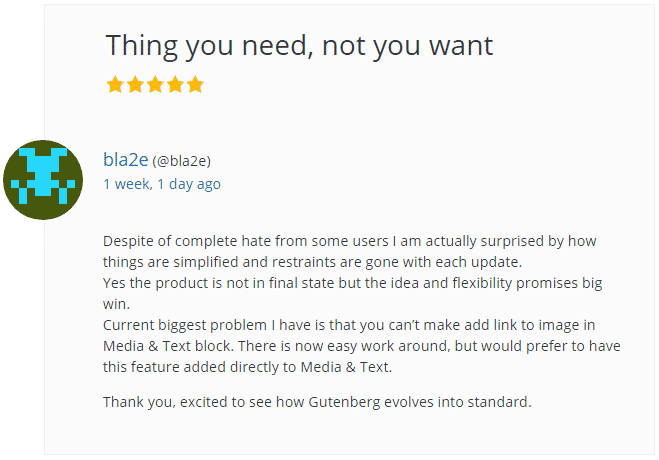 Inviting people to share their personal experiences might encourage this type of positive feedback to appear more often.
Negative Reviews with Feedback Examples
On the other end of the spectrum, there are negative reviews.
Unfortunately, it's much easier to trigger a negative review than a positive one. People are more likely to respond to something that makes them slightly angry, disappointed, tricked, than somewhat pleased.
In most cases, people who skip the support forum and go straight to a bad review have encountered serious, site-breaking bugs that are either irreversible or frustrating to fix.
Sometimes they may also assume they'll get no support and rate poorly when they encounter a bug. It can also be the case, they don't know about WordPress' support forums.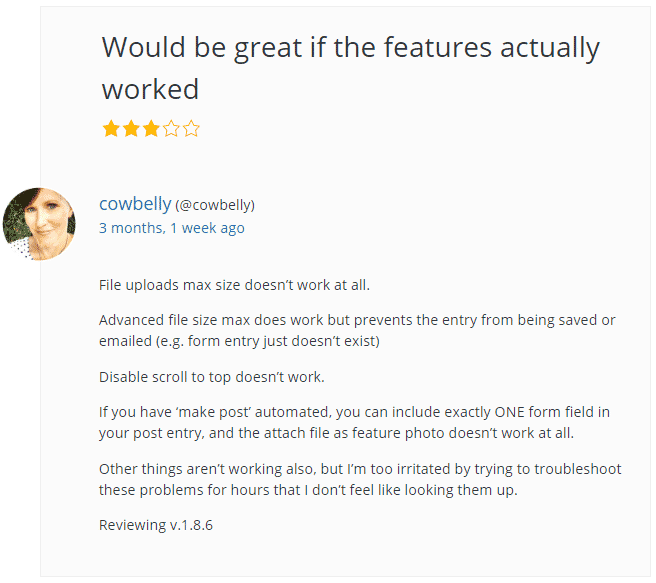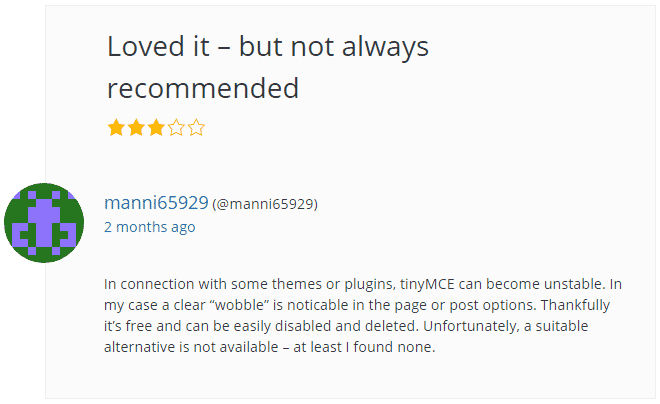 Users leave these reviews because they don't want others to have the same problem, or to quickly bring an issue to the attention of the developers.
Sometimes the damage is irreparable, but with tact, you may be able to help this person out and turn that one-star review into a glowing five-star rating.
Frustrated and Angry Review Examples
At times, this feedback may look a lot more like venting. Whatever the cause, people often take to their keyboards to express their overwhelming frustration.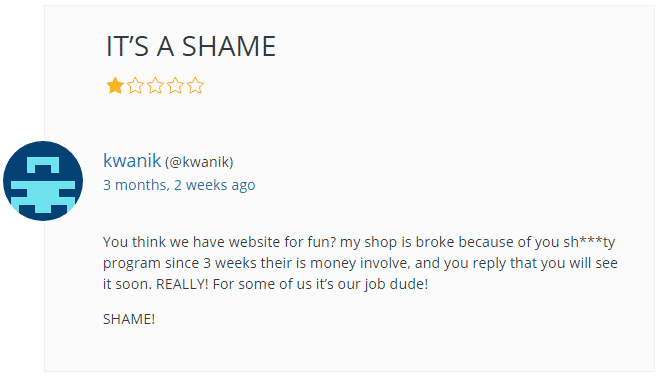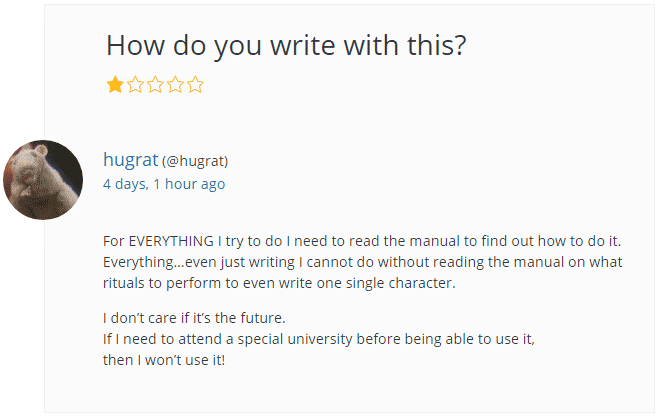 These are a little harder to deal with since you're usually engaging someone who's actively upset with you.
But it's definitely worth a try to see if you can improve the situation with helpful support if the issue is a problem you're capable of solving.
Negative Reviews Left Due to Poor Support
Speaking of support, however you handle it, it's one of the biggest triggers for a review. Poor support, or no support at all, means low ratings. But great support has the entirely opposite effect. See the difference for yourself.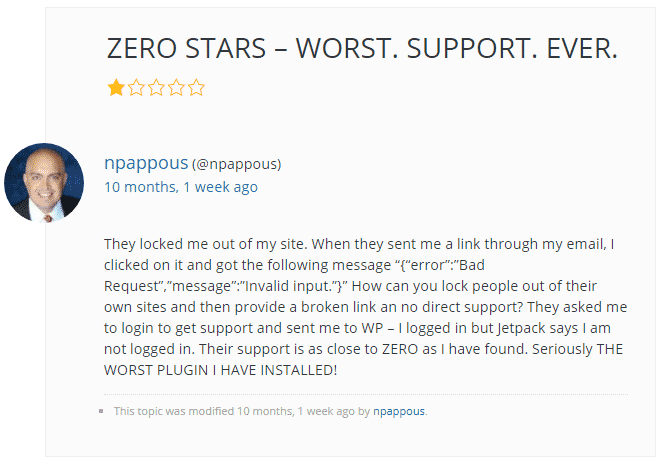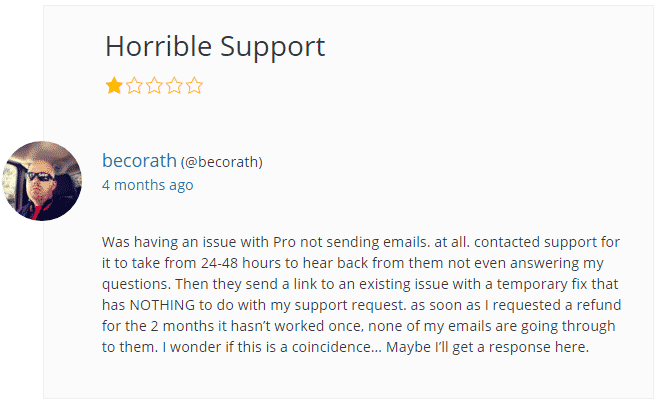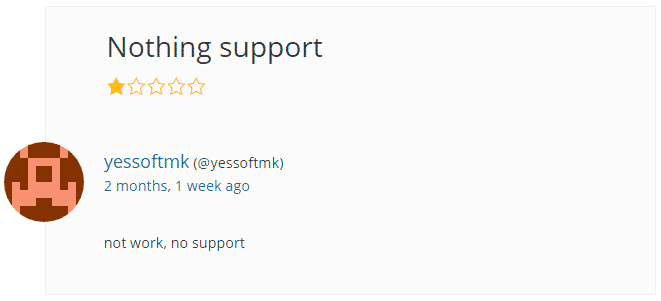 If you want to get better rankings in the WordPress.org repository, one of the best things you can do is provide stellar support that's helpful and prompt. But that's not your only option, there's a lot of optimization you can do and tactics you can implement to get even more feedback.
Actually, that's a whole approach to marketing called Review Marketing.
Better Plugin Reviews
Very few plugin users are willing to leave reviews unprompted. With an average below one percent of users giving any sort of feedback, it can be very difficult to grow social proof for a plugin, especially when you're first starting out and have few or no ratings at all.
But while reviews and other types of social proof can and do affect your plugin's reputation, only reviews left through WordPress.org will have an impact on your star rating and your SEO rankings on the repository.
Understanding why people leave reviews, anticipating the different types of comments and feedback that usually come as reviews (as outlined above), and learning how to deal with the negative ones, are key to building solid social proof for your WordPress plugin.
---
ARE YOU LOOKING FOR MARKETING HELP FOR YOUR PLUGIN?
I'm available to help you grow your WordPress plugin with more reviews, leads, and happy users. To start things off, tell me more about your WordPress plugin over here.